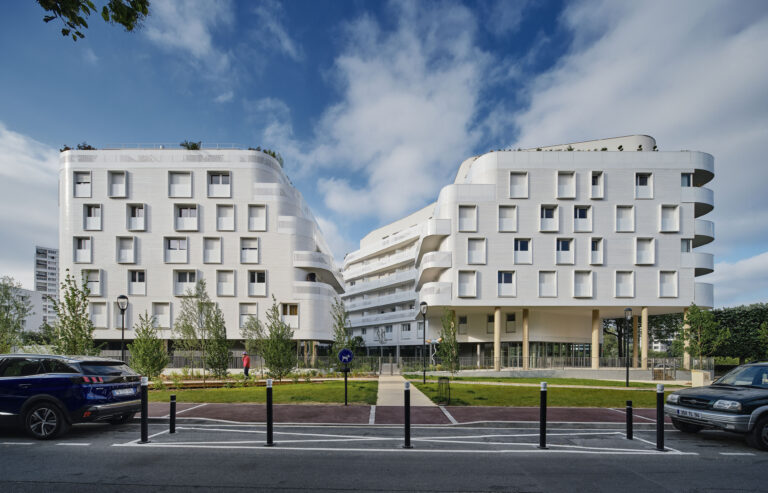 Îlot Baignade
Alfortville
In many ways, the Bathing Island offers an exceptional context.
Located on the banks of the Seine, the islet is visible from the banks and marks the surrounding landscapes. Nearby environments with distant views, it is a landmark that punctuates the shore between the lower districts to the north and the towers to the south. Directly connected to the quays, the site is at the crossroads of many uses in an inhabited context which tends to reinvent itself through new projects. The block benefits from a strategic location with a metropolitan dimension.
Read more

: Îlot Baignade
The will of the city to create a qualitative public space with exceptional dimensions (30.5 m wide) is the starting point of our reflection. It is a question of proposing a project strategy which is no longer just a place of habitation but a real urban piece, a confluence project.
The question of public space and its extension to the heart of the system is therefore posed here as a prerequisite, a condition which will radiate practices and allow a very strong link between the shared space of the street, and the private space of the building.
The morphology of the building is directly linked to the urban and architectural components of the site. Along the plot from R+2 to R+6, the high and low volumes change depending on the orientation of the sun and views of the Seine, the objective being to come and inhabit the landscape while taking advantage of the lights from South. This covering also echoes existing constructions. The breakthrough of the volume to the north recalls the comb compositions of the ZAC des Pontons. This cut in the building, as well as these stepped shapes bring a perceptible dynamism from the street. The sculpted mass breathes and the curves reveal the transitions and continuities that take place within the same volume. The entity has neither front nor rear, because each point of view echoes a unique landscape.
We dream of a building that brings people together, that creates ties locally. Place of transparency, depth, rich and diverse perspectives, this "volume of the pedestrian" enriches the city by offering a dynamic and lively character throughout the project perimeter.
Program
Construction of 100 appartments (25% social) +
350m² of retail +
parkings
Location
Îlot Baignade, Alfortville, 94
Calendar
Completion 2022
Client
Constructa
Architecture team : Hamonic+Masson & Associés : architecte mandataire.
Photographer : Takuji Shimmura.
Environmental consultancy : ANTEA Groupe
Structure and Thermal fluids engineering office: COTEC
Thermal and acoustic engineering office : AT 3E
Landscaper : Agence Babylone
Control office : Alpha Contrôle