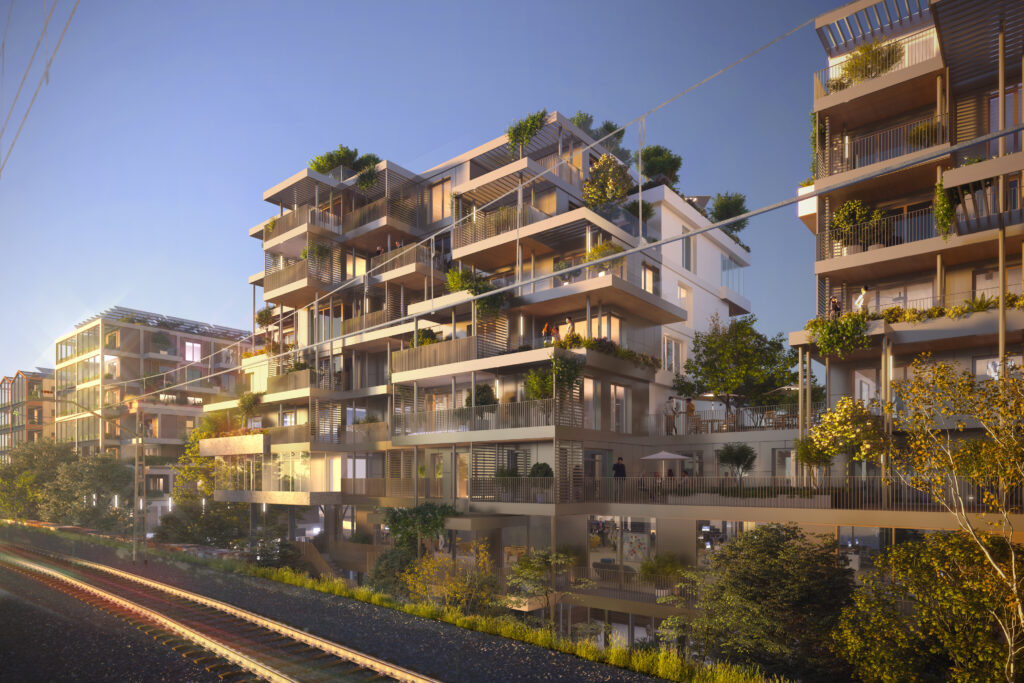 Îlot Sud
Cachan
A strong identity
The distinctive features of our building are its linearity, which structures the avenue Léon Eyrolles, its long landscape façade overlooking the railway tracks, its link to the site entrance and its relationship with the new square. Stretching along more than 100 m of the avenue, our buildings create a lively, inhabited fabric. They resonate with the market and enhance the life of the neighbourhood.
Read more

: Îlot Sud
A lively, local and radiant street
The mixed-use retail and commercial development is designed to appeal to both the local community and the wider environment. A large, double-height porch sets the scene for the volume as seen by pedestrians, providing a gateway to the garden and thoroughfares, and revealing access to activities up to the first floor.
Landscaping to enhance the slope
With sunny terraces and a garden for each dwelling, our project is a hedonistic building. We have sequenced and enriched this linear volume with a multiplicity of inhabited scales. From the lanes to the west, the facades feature balconies like suspended huts, anchored in the landscape of the embankment. To the east, the façades take on a more urban feel, with balconies running along the avenue and opening onto the park.
This building is above all a residential building with a varied programme.
It is divided into three parts, combining terraces, gardens and roofs, creating a diversity of scales and living spaces. The project thus plays on the idea of movement, background and multiplicity by offering different typologies. The repetition inherent in the theme of collective housing is counterbalanced here by notions of uniqueness and belonging (typologies, outdoor spaces, views, etc.).
Building more sustainably
The primary environmental quality of the project is the ability of the homes to live in harmony with the outdoors and adapt to the climate through bioclimatic systems that allow individual comfort management throughout the year. The through-viewing, angled or triple orientation of the homes ensures optimum natural lighting, solar gain in the cooler seasons and the ability to ventilate naturally at the hottest times of the year. The structural principle is based on an internal timber post-and-slab structure and lightweight timber-framed facades covered with lime plaster and ceramics. The massive use of these bio- and geo-sourced materials means that the project has a very favourable carbon footprint.
Program
Construction of housing + retails + offices
Location
Cachan
Calendar
Completion in 2028
Client
BNP Paribas Real Estate +
Spie Batignolles Immobilier +
Ceprom
Architecture team Lead architect
Hamonic+Masson & Associés - Associate architect
Valode & Pistre

All trades engineering office
Arcadis

Environmental consultancy
Michel Le Sommer

Landscaper
TN+

Surface
13 000 m²Lieu
Cachan
Team
Arnaud Grenié