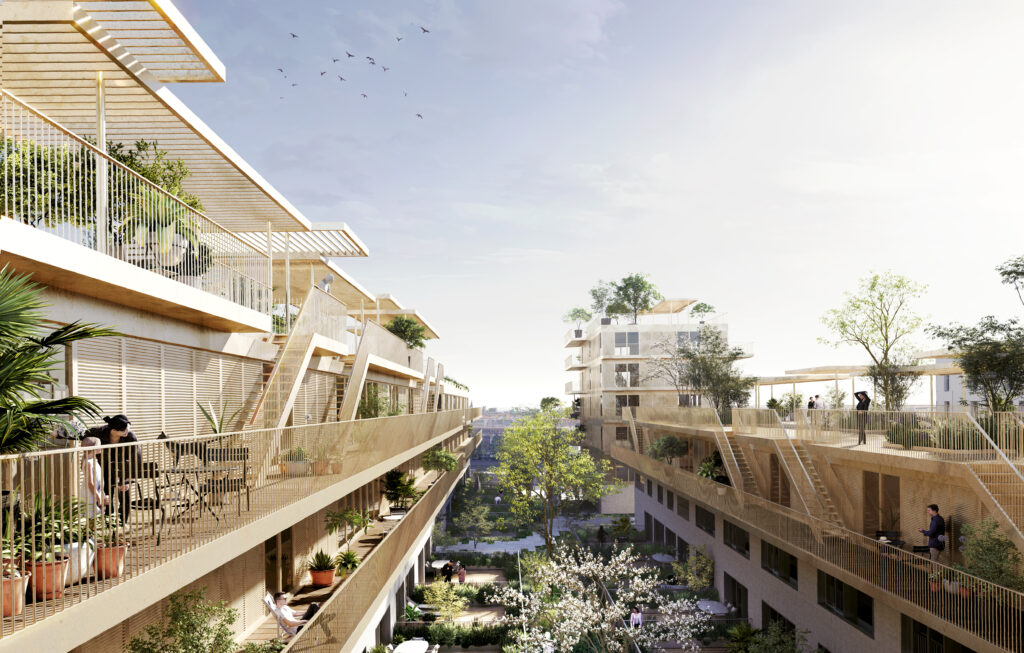 Mellona
Dijon
The Lot Canal 4 project has been designed to promote social and generational diversity with a large variety of apartment types and designs.
In the center of the Arsenal eco-neighborhood, the "Canal" environment suggests a built-up area in strips oriented towards the canal, allowing the residents to take full advantage of the setting offered by the presence of the water.
Read more

: Mellona
The goal is to develop a vocabulary of contemplation. Large terraces where outdoor life becomes one with the surrounding nature. The project is the staging of this privileged situation, overlooking the trees and the canal, to assert a strong identity.
The creation of housing that gives the impression of living in a green setting, in a place anchored in its territory, is combined with the use of outdoor spaces as the highlight of the project. The lower levels are anchored to the ground of the city, where we will find a duplex housing with private garden in the heart of the block. The high levels will dialogue with the trees and the sky. Here, we live on the earth and we live in the sky. With a common horizon, which is to open up views.
Program
Construction of 90 housing units : 63 (70%) open-access + 27 (30%) affordable housing
Location
Mellona, éco-quartier de l'Arsenal, Dijon
Calendar
Completion in 2026
Sponsor
Pitch
Architecture team : Lead Architect: Hamonic + Masson & Associés.

Control office and acoustic engineering office: Bureau Veritas
Ground engineering office: Geotec
Structure engineering office: BE Clément
Stormwater management engineering office: Tauw
Thermal fluids engineering office: Prelem
Environmental consultancy: Vizea
Landscaper: Graphyte
Images: YAM Studio

Surface : 6330 m².
Team
Rita Ibnlkhayat