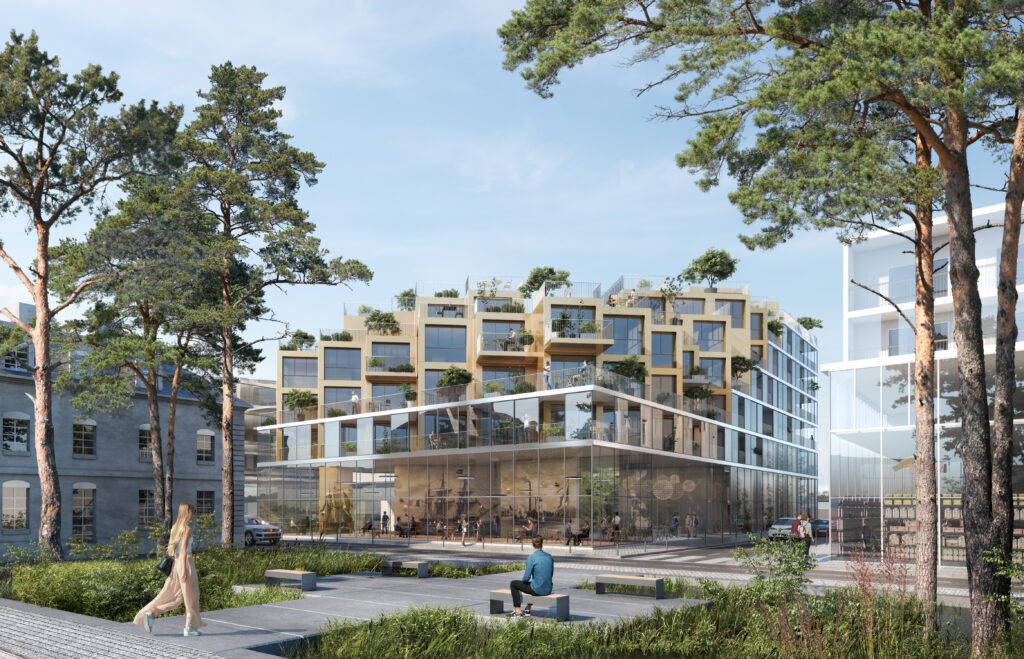 Safran
Lorient
Block 4C is conducive to the establishment of an ambitious and iconic project. The proximity of the sea, the opening onto the gardens, the quay promenade, the historic buildings, the history of the site itself, are all contextual and inspiring elements for the definition of the project.
The ambition of the project is to link the different scales of the site and to give everyone views and orientations towards the sea and the gardens.
Read more

: Safran
Asserting a frank frontality on the quay facing the sea, the building then develops through a stepped architecture to finally dialogue with the resting garden, the mall and the printers' house. The orientations and views are multiplied by the rotation of the volumes overlooking the streets and the garden. This makes it possible to avoid masks and direct contact with the neighbouring buildings on the northern and southern streets, and to allow visual openings to the sea and the wider landscape.
Sunlight and views are multiplied by the geometry of the plan.
The attention paid to the "skyline" makes it possible to introduce variations in the silhouette that is cut out of the sky, but also to multiply the different appropriations of the roofs. It thus offers a vision of varied scales to the surrounding inhabitants, and diversified places for the users of the building. The project thus plays on the idea of movement and depth of field.
Program Construction of housing + private homes + offices + car parks
Location
Safran, Lorient , 56
Calendar
Completion in 2025
Client
Giboire
Architecture team
Lead architect: Hamonic+Masson & Associés.
Fluid and thermal engineering office : Become 56
Structure engineering office : SERTCO
Management of the works + Site scheduling, coordination and management : Lead Ingénierie
Economist : Racine Carrée
Images : YAM studio
Cost : NC.
Surface : 5000 m².