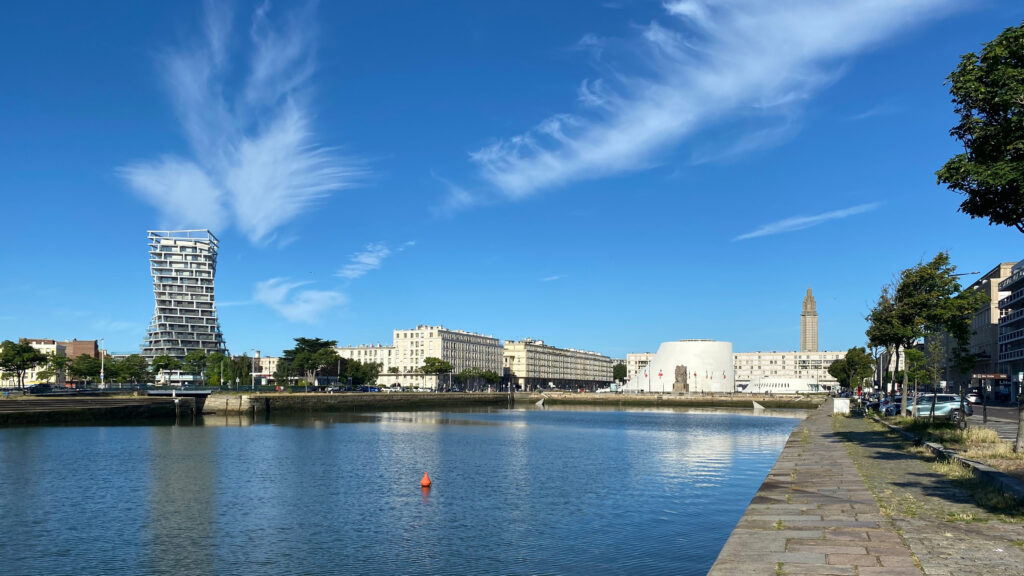 Alta Tower
Le Havre
A state of mind
Overlooking the bassin du Roy, the bassin du Commerce and the heart of the city centre reconstructed by Perret, whilst also being located next to Niemeyer's Volcan and the city's historic monuments such as the Town Hall and the Saint-Joseph church, the Alta tour is a building that sits within the unique city of Le Havre, whose history is formed by architecture. By taking into account the specifics of this context, the project attempts to link two territories: the city and the sea. Its architectural style and affirmed expressiveness combine to create a new piece in the port town's skyline.
Read more

: Alta Tower
The site is located at the nodal point of Le Havre's history and reconstruction. This strategic position, at the articulation between the two urban fabrics of Perret's proposed general plan, bestows a remarkable character and geometry upon the building. Benefiting from great visibility and exceptional views overlooking the docks, the building offers varied scales for neighbouring local residents and a diversity of spaces for the inhabitants. The project plays with the idea of movement, background and multiplicity. Its volume works alongside the differing scales, creating a sculpted fan effect where the concrete netting wraps around the building's body accentuating the transforming, rising twist.
Living here allows people to understand and appreciate the vast richness of the urban tissue that makes up this astounding site. Residents will not only be aware of the city's heritage which unfolds before their eyes, but also of the fantastic opportunities that await this territory.
Both an emergence and a signal, the Alta tour strives to provide remarkable apartments. The free floor plan allows different typologies to be created upon request. This personalization is possible from the building's conception. The question of housing here carries values such as quality of use, diversity, dynamism and optimism. Embracing the future with ambition, the building will be demonstrative of vertical housing in the urban environment.
It is rare to have the opportunity to confront a subject with this much symbolic power and evocative force. During the buzz of Ré-inventer Paris, Inventons la Métropole, Réinventer la Seine and other international architecture competitions, this project primarily poses the question of our connection to history and heritage. Invention is introduced within historic continuation and not via style or dogma, but through a certain state of mind. Le Havre is Perret and Niemeyer, but above all it has a sense of modernity and architectural adventure on the same scale as its original history: a town built as the starting point of the quest for new territories.
Program
55 meters
63 apartments + crèche (60 cribs) + car park

Location
Tour Alta, site Videcoq, Le Havre, 76

Calendar
Completion in december 2023
Client
SOGEPROM
Architecture team Architect: Hamonic+Masson & Associés.
Project manager: Cesar Silva.

Thermal fluids engineering office
BET Boulard 14

Electrical engineering office
BET Bader

Graphist
Luxigon

Surface
6 000 m²
Lieu
Tour Alta, site Videcoq, Le Havre