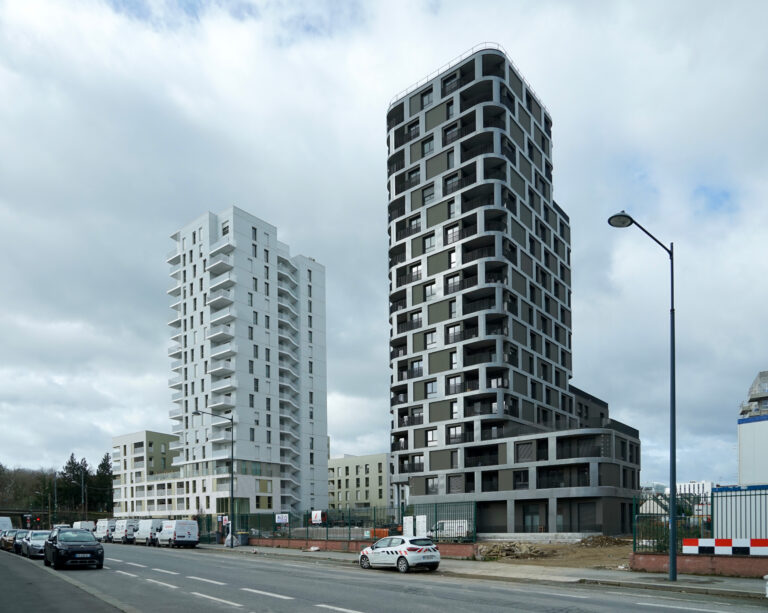 Akoya
Rennes
Elegance in Rennes
Confluence
The strategic position and impact on this site offer a range of interpretations depending on one's proximity to the building, evoking multiple responses and sensations. A range of detail on the skyline creates variation in levels and the silhouette in the skyline. This enables neighbouring local residents to appreciate the building's different scales from a distance whilst also providing diversity and variety for the inhabitants.
Read more

: Akoya
Insertion in the city
This requires special attention to the building's integration into the urban and landscape surrounding, as well as the pedestrian level, the different entrances, transparencies, conception details and daily use. A dialogue will form between all human and urban elements.
Exemplary living
Conviviality must be present in order to ensure optimum living conditions. A shared platform has been designed at the heart of the residence in order to allow neighbours to come together and create a shared future. This social link is continued on the sixth floor, with a gardening space and greenhouse. We wish to conceive the project as a social, economic and cultural hub, which will become a true laboratory of new, contemporary practices.
Identity
The work on the façade is an opportunity to provide a subtle and poetic image, and insert the building into Renne's skyline, Furthermore, following the change in seasons, or in the morning, afternoon or evening, the shadows of the building's different elements will resonate. Some parts will absorb the light, whilst others shall reflect it. This is an essential element of the project. We have chosen metal, glass and concrete, as they are materials that offer the finest dimensions (in assembly, thickness, structure, texture), and also play with reflections whilst providing the desired lightness.
Program
50 meters
90 apartments + parking
Location
Akoya, secteur Guines, Rennes, 35
Calendar Completion 2023
Client
Aiguillon Construction
Architecture team
Architect Hamonic+Masson & Associés.

Photographer
Takuji Shimmura

All trades engineering office
BETOM

Environmental consultancy
Cap Terre

Acoustic engineering office
Yves Hernot

Landscape design
Paula

Images
YAM Studio

Cost
NA

Surface
6 500 m²
Team
Camille Bobenrieth and Clément Bonnerat