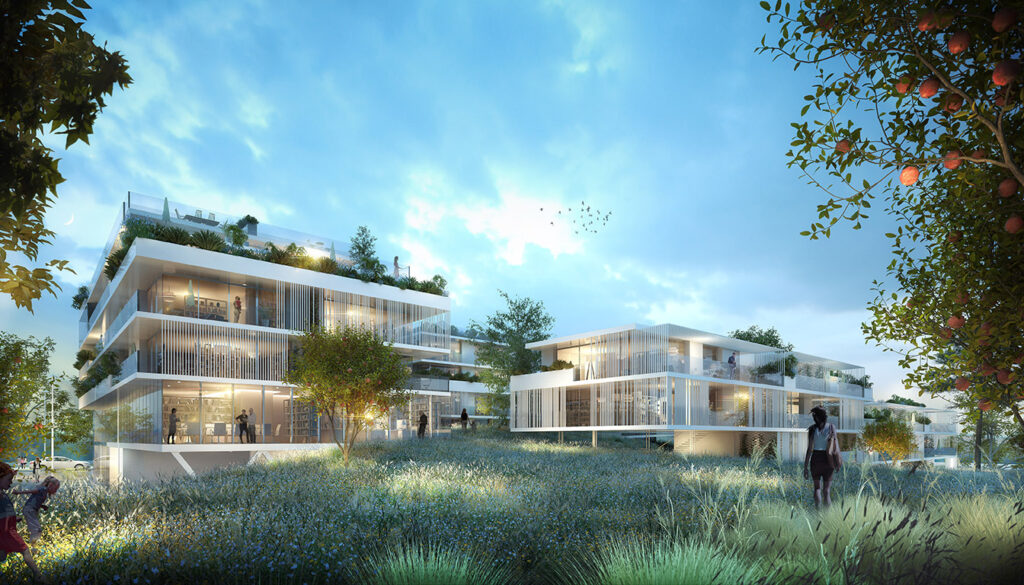 Symbioz
Saint-Herblain
The boulevard de la Baule, like other major urban transformation projects in the area, is the starting point for the city's metropolitan transformation.
It is a model of urbanization based on proximity to transport and services, and a relationship with nature and the landscape. It thrives on the ability of transport networks to trigger strong urban renewal and create corridors of influence.
Read more

: Symbioz
On a neighborhood scale, it rewrites the porosity of the fabric, resituates the heterogeneous urban factories around it, and creates local connections. On an urban scale, it is a major gateway to Nantes, the expression of a gentle yet assertive transition in the city's expansion.
The project aims to respond to this bivalence, this dual belonging, by co-writing the near and the far, resonating the volume of the pedestrian and the great landscape, and making this project an active fragment of the overall spectacle of the metropolis.
The main aim of this project is to demonstrate the added value of controlled density in the city center. It should also be an opportunity to extend the 're-enchantment' of a district that is in the midst of renewal, and to ensure that the new buildings are part and parcel of the city park.
Program
Construction of 97 apartments + services + offices
Location
Symbioz, ZAC Boulevard de la Baule, Saint-Herblain
Calendar
Completion in 2023
Client
Kaufman&Broad
Architecture team : Lead architect: Hamonic+Masson & Associés. Associate architect: HUCA

All trades engineering office : BETAP
Structure and fluid engineering office : ALBDO
Landscaper : PRAXYS

Surface : 6,047 m² of homes + 548 m² of offices + 769 m² of retail units.